...and read
The Fault in Our Stars
. My reactions on Goodreads: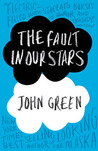 The Fault in Our Stars
by
John Green
My rating:
4 of 5 stars
The last time I read a book with this much hype was the first
Harry Potter
. That turned out quite well, considering that I'm re-reading the series for the fourth time now.
I was prepared not to like this book, but I did. It has a way of getting under your skin. It was funny and sad and light and heavy...and realistic, for the most part. The only thing that prevented me from giving it 5 stars was that the voices didn't ring true, at least to my ears. When was the last time you heard a 16-year-old use the word "sobriquet"? I almost felt like Green "YA-ed it down" to attract a larger audience, but I enjoyed it nonetheless.
View all my reviews